If you could suddenly play guitar, what are the first three songs you would play?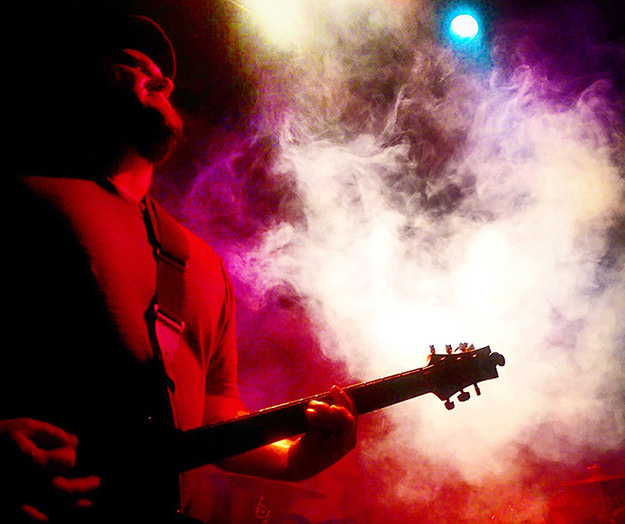 While he can't guarantee you'll be playing one of those songs right away, Dustin can have you playing a song by the end of your very first lesson!

Skeptical? Maybe you've tried learning guitar before, only to give up in frustration. Or maybe your child wants to learn and you're concerned it will be too difficult for them? Either way, Dustin's unique approach to teaching can help.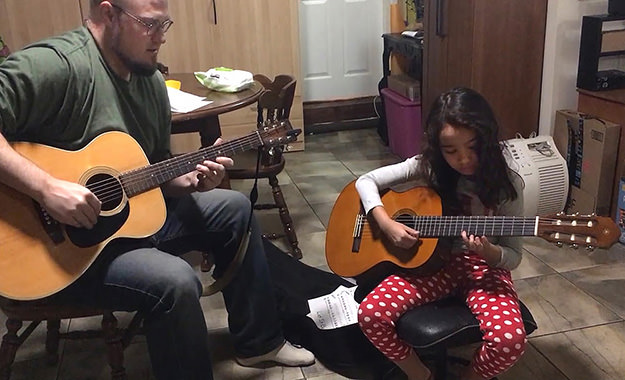 Dustin developed his method of guitar instruction over 15 years ago, in response to hearing how many people quit learning to play because their teachers started them off with chords. Chords require multiple fingers on multiple frets playing multiple strings and can be quite frustrating when starting out.
Instead, Dustin teaches finger exercises disguised as songs so, not only does the student get the satisfaction of learning to play actual songs right away, they're preparing their fingers for chords down the road.
He also creates his curriculum based on the goals of the student. Does your child want to become a guitar prodigy? Dustin's got them covered. Want to play some songs at a party without looking foolish? He's got you there as well.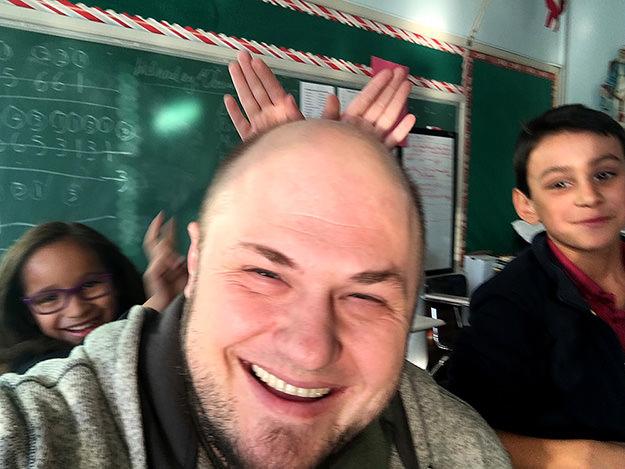 Dustin has been playing guitar for nearly 30 years, teaching for over 15, and performing in the Los Angeles based original rock band Stage 11 for over 11. He loves sharing the joy of creative expression with students of all ages.
Learning guitar does take some effort, but Dustin makes it fun… Stick with it long enough, he'll not only have you playing your favorite songs but you'll be writing your own!
If you're ready to get started, contact Dustin to schedule your first lesson.
Testimonials
Dustin is amazing! My daughter has learning disabilities and he is so patient with her. She learns something new every time and is always so excited for every lesson. He has been such a blessing to us!"

— Vickie W. (parent)
Mr. Dustin made it possible for me to learn guitar, even halfway around the world. He helps me to find new ways to hone my skills and make them more acute. His way of teaching is fun and informative, and he wants to know what I think about how he is teaching me. He is still open to my style of music and does what he can to help me express my style."

— Nalia N. (student, age 14, living in South Korea)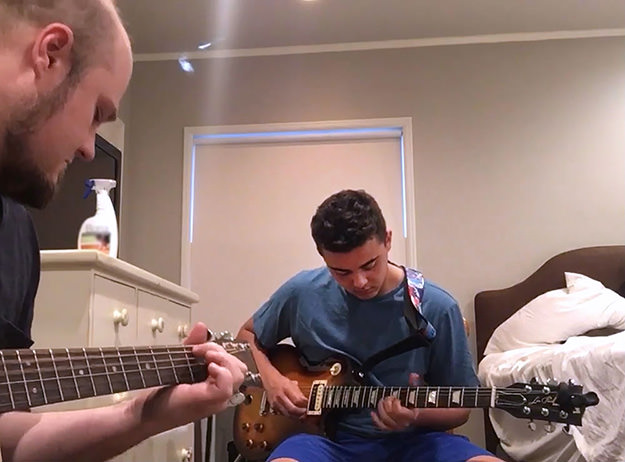 Guitar lessons for me were a way to relax and learn something new. My son became interested and asked to join in on the fun. Dustin has been a great teacher for me since I'm an old dog trying to learn new tricks. He is very patient with me but still keeps me challenged to do better."

— Robert A. (adult student & parent of student)
It's daunting, being a student again, it's hard. Taking guitar is one the best decisions I've made in adulthood. Taking guitar from Dustin is hands down the best decision I've made. He made learning this instrument seem possible from the start, he connected the concepts to my experience and geared lessons directly to my needs. He convinced me I could do this and, two years later, turns out he was right! Thank you Dustin!"

— Rich L. (adult student)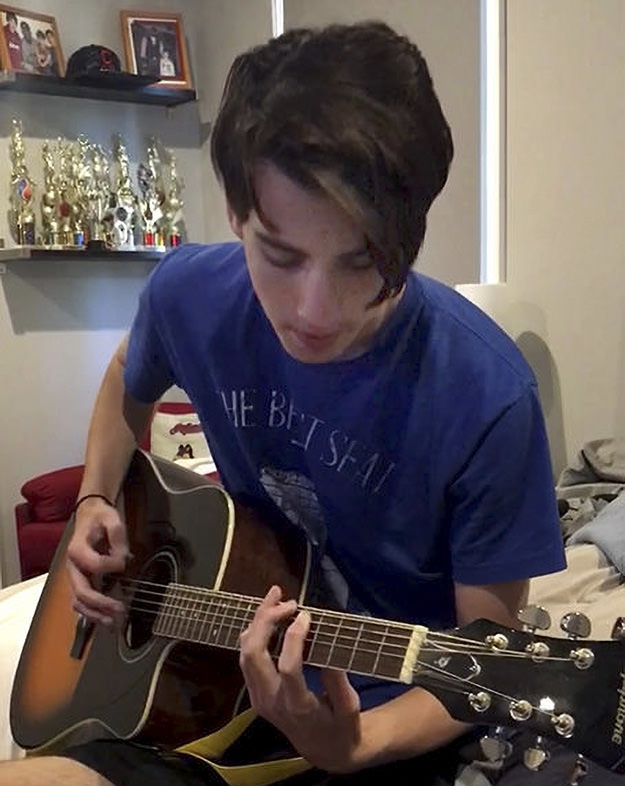 After my daughter's first lesson with Dustin she said she learned more than in an entire semester in a group setting. She went from knowing how to recite very simple songs to writing music and performing with multiple bands in just a couple of years. Dustin was able to unlock the power of music for her."

— Dawn L. (parent of student)
Want similar results? Contact Dustin to get started!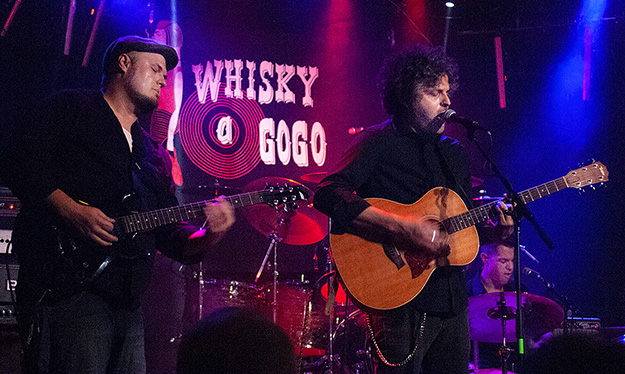 FAQ
What guitar should I get?
As for guitar size, students age 12 and up are usually fine with a 3/4 size, while younger students are typically more comfortable with a junior size nylon string guitar.
What ages do you teach?
Dustin teaches students of all ages, but recommends beginners be at least 7 years old. You're never too old to start learning guitar!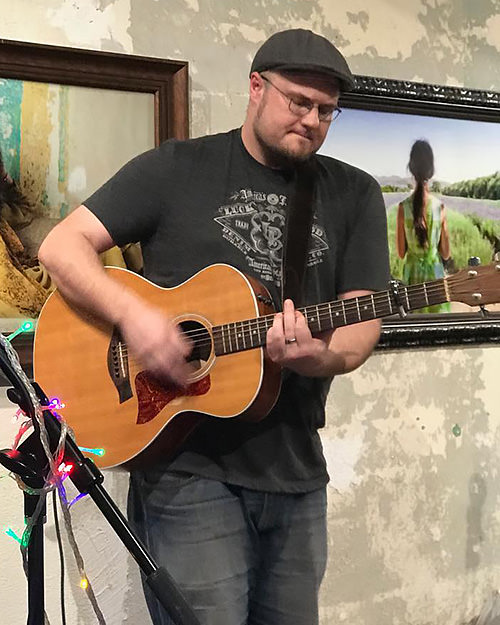 How are the lessons conducted?
Lessons are conducted remotely over Skype or Zoom, allowing Dustin to teach students all over the world! He has been working with students this way for 4 of the 15 years he's been teaching.
How much are lessons?
Lesson prices vary based on length and method of instruction (online vs. in-person). Dustin recommends weekly 45-min lessons.
Taught online via Skype or Zoom, a 45-minute lesson is $50.
Longer lesson times are available.
Do I have to purchase materials?
Only a guitar, if you don't already have one.
You'll receive your tailored lesson plan via email 30 minutes before your scheduled lesson time. Simply print out that day's exercise before logging on with Dustin.
How do I pay?
Dustin accepts payment via PayPal or Venmo after each lesson.
What if I have to cancel or reschedule?
Dustin understands that life happens and sometimes a student can't make a lesson, which is why everyone gets one day-of cancellation forgiven. After that, any day-of cancellations will still be charged for the lesson.
If you give Dustin at least 24 hours notice, you will not be charged for the cancelled lesson and there is some possibility for rescheduling within the same week.
Contact

(818) 795-0069 · guitarbydustin@gmail.com